General Summative Assessment 2021 results for fourth and fifth graders will be sent home Wednesday, Sept. 15, 2021. Look for those results in a large envelope today with explanations for how to interpret the results.

Join us for Open House Monday, August 23rd! Please help us avoid large crowds by following these timeframes. Students with last names beginning with A-L will come from 5:30-6:00 and students with last names beginning with M-Z will come from 6:00-6:30.

HAVE A WONDERFUL SUMMER!! We love our students and look forward to seeing all of you next year.

Friday, June 4th is the last day of school for students. It will be an early release and students will be dismissed at 11:45.

SAVE THE DATE and join us on Thursday, April 15th as we are Bugging Out for Spring! This will be a fun drive-through parent involvement event and we will be giving out books, snacks and a lot of fun goodies as we celebrate spring together.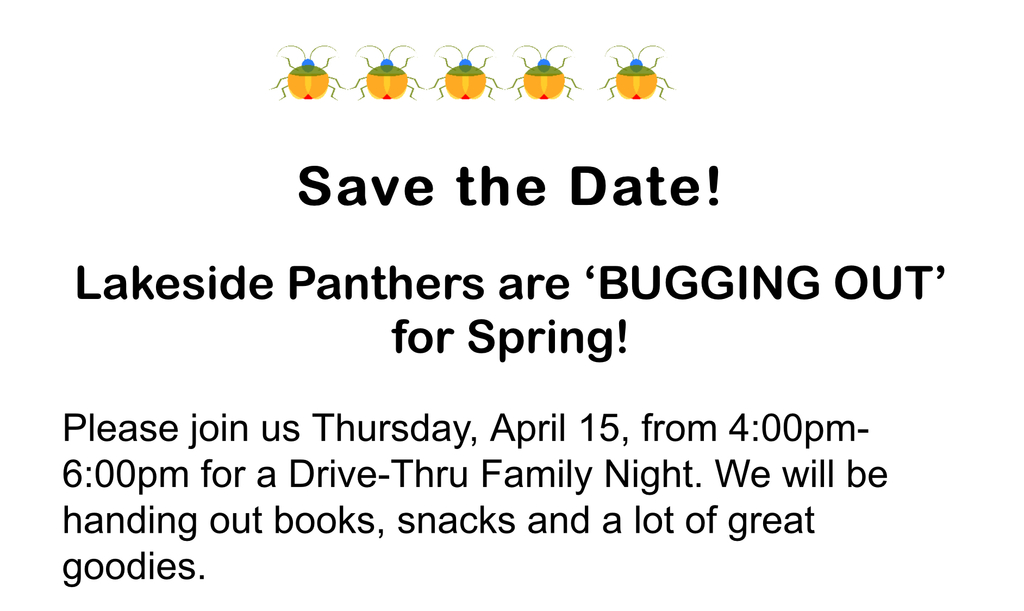 Kindergarten registration packets are available for pick up beginning March 3. Please pick one up and get the documents needed in time for turning in your packets on March 24th. You will need a birth certificate from the WV Dept. of Vital Statistics, up to date vaccinations and shot records, and other medical information. Make your appointment for turning in the packet on the day you pick them up. Children will not need to be present when turning in the packets.

March 1,2021 All Putnam County Schools will be operating on an "On-site Remote Instruction Day" due to multiple bus route closures that are weather related. Students should log in to Schoology two hours later than the normal schedule for assignments/instruction.

We will be celebrating the love of reading next week, March 2nd-March 5th! We will have special dress up days each day. Monday-Hat Day Tuesday-Dress like a Dr. Seuss character for Read Across America Day Wednesday-Wacky Wednesday-mismatch day Thursday-Crazy Sock Day Friday-Wear your favorite color(s)

Lakeside will be open and on time Tuesday and will be celebrating Valentine's Day. We look forward to seeing our students for what seems like the 40th first day of school.

Friday, February 26th will be a 2 hour early dismissal in order to allow for the Faculty Senate meeting as specified by WV Code. This was originally scheduled for February 19th.

Preschool registration is open for Putnam County School's 2021-2022 school year. Please visit
www.putnamschools.com
for information. Click on menu, parents, then PreK to find information.

No school at Lakeside Elementary for students and staff on Monday, February 22, due to power outage.

If students are not in school due to inclement weather, remote instruction will begin at 10:30 for all LES students (in seat, virtual students, and self contained special ed classes). All students should log into Schoology to get access to Teams meetings with their teachers for live instruction and for their assignments. This includes music and PE classes as well as core subjects.

Valentine parties will be Thursday at 1:30 if school is in session. If we are not in session due to inclement weather, they will be Friday morning. Friday is an early dismissal. We will dismiss at 12:45 on 2/12 so school staff can get their second vaccine. Also, so you can plan ahead, remember Feb. 19 is also a 12:45 dismissal due to Faculty Senate meetings.

2-HOUR EARLY OUT - FRIDAY, FEBRUARY 12 Putnam County Schools will be dismissing two-hours early this Friday, February 12, 2021, for PCS employees to receive their final round of vaccinations.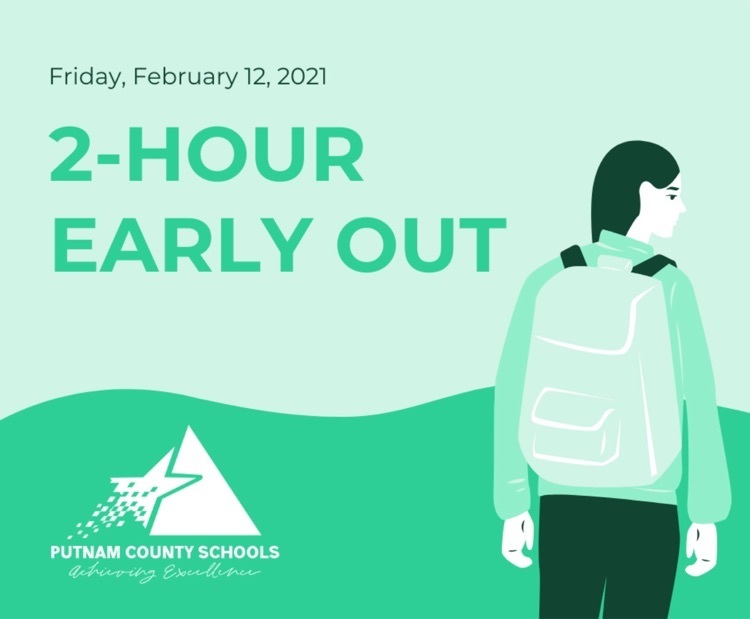 Lakeside will dismiss 2 hours early on Friday, Feb. 12. 12:45 is our dismissal time. This is due to teachers getting their second vaccine for Covid.

Putnam County Schools has established an Emotional Support Phone Line for families and students in need of emotional support during the COVID-19 pandemic. The Emotional Support Phone Line number is (304) 586-4947 or extension 1960. Feeling isolated, overwhelmed, or alone? Need to talk? Do you or does your family need emotional support during the COVID 19 pandemic? The Putnam County Schools Emotional Support Phone Line provides resource referrals for students and families experiencing emotional distress. Student support staff are available to talk, offer resources, and provide referrals to other local agencies if needed Monday thru Friday 10am to 6pm. If you are experiencing an emergency crisis, please contact the West Virginia Children's Crisis Line at 1-800-HELP4WV (1-800-435-7498) or call 911 immediately. West Virginia Children's Crisis can also be reached on their website:
https://wwwhelp4wv.com/ccl
. We are available to help and provide supports. Give us a call at (304) 586-4947.

Congratulations to LES students of the month for October! These students were selected for showing leadership by being respectful.